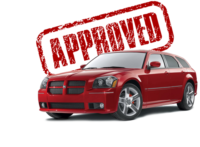 When I was a teenager, I had a car. I didn't buy my car; it was given to me. I didn't know that later on, I would have to purchase a vehicle on my own and the cold, hard, truth about auto loans,lol. If you've never had the pleasure of applying for an auto loan, let me tell you this: the loan process can be an easy one, or it could be a stressful "never gonna do it again" one. In my lifetime, I've gotten 3 car loans, and thankfully, they were easily done. Below, Auto.Loan gives you some good tips on what to expect and/or look for when your time comes to get a loan.
Ten Tips to Help You Find the Best Auto Loan
When you buy a car, the price only partially determines how much you'll spend. The interest rate and length of an auto loan also affect the total cost. These tips can help motorists find affordable financing:
Look at your credit record and consider paying a fee to check your current score.
This will give you a better idea of what to expect. Carfaxreports that borrowers with scores under 600 often pay at least 6 percent interest.
Apply for auto loans during a 14-day time span.
This will reduce the negative impact on your credit score. Keep in mind that a credit score slightly decreases when lenders check your history.
Compare both the monthly and overall costs of different financing options.
For example, a five-year loan for $8,000 will cost almost $8,625 if you pay 3 percent interest. A six-year term reduces the monthly payment by $22.20 but raises the total expense to $8,752.
Find a lender before you select a vehicle.
Apply for loans from reputable banks, credit unions and Internet lenders. Local and online banks tend to offer lower rates. The same goes for credit unions.
Don't buy a car without finalizing the details of a loan, such as the term, down payment and rate.
When motorists agree to accept contingent financing, lenders may make undesirable changes to their loans.
You might save money by directly communicating with a bank rather than obtaining the loan through a dealer.
The average car dealership marks up financing rates by almost 2.5 percent, according to Consumer Reports.
If you can choose between rebates or a low interest rate, carefully calculate the savings that either decision would yield.
Rebates frequently represent the more advantageous option.
Before borrowing money, take the time to research the lender's reputation.
Federal and state agencies, the Better Business Bureau and online reviews can provide helpful information. Use a variety of resources; beware of fake reviews from lenders and their competitors.
Read the entire financing agreement. Don't let anyone pressure you to sign it immediately.
Watch out for prepayment penalties, binding arbitration clauses and adjustable rates. The printed terms supersede all verbal statements.
Confirm that the bank's monthly payment amount matches the term and interest rate.
You may use an online calculator, specialized computer software or a smartphone app. If a lender's calculations don't make sense, it may be trying to deceive you.
To sum it up, always exercise caution and take your time when you look for an auto loan. You can save a considerable amount of cash by carefully comparing a wide range of financing options.
Now What?
Now that you've read these tips from Auto.Loan, You can feel a little better and more prepared for your next loan. I' actually thinking about upgrading my Jeep Patriot to a bigger SUV in the Jeep family, so I'll be using these tips, too. I hope you enjoyed the read! Until next time!