Get Back To Good Taste With Back To Nature Products!
Disclaimer: I received this product for free from Moms Meet (momsmeet.com), May Media Group LLC, who received it directly from the manufacturer. As a Moms Meet blogger, I agree to use this product and post my honest opinion on my blog. The opinions posted are my own.
Hey,Everyone!  I just recently tries a new healthier for you food company, and I have a few things to say about it. Firstly, I want to say that I'm trying really hard to have my posts not seem like a review. Even though, I DO review a lot of items, I would like my readers to know and understand that I only write about products I truly use in my home and in my life. That being said, I'm a MomsMeet Blogger/Ambassador and I had the opportunity to try products from Back To Nature, an established healthy food company.
MomsMeet sent me a pack of chocolate chip cookies to sample and a super nice Back To Nature T-shirt to wear as a part of a blogger kit. When the kit came to my home, you know that I immediately had to open the cookies! The packaging is nicely done although I don't think it is resealable (something I would like to see in the future). The cookie itself is beautiful. I know that beautiful is really not the usual word to describe a cookie, but it works for this one. This cookie, to me, looks like a Chips Ahoy "chunky" cookie… but better. I mean… look at it for yourself.
I'm With MomsMeet!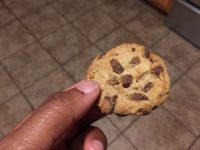 Ohhh.. I forgot to mention that while these cookies look like another cookie brand, they are a little smaller. But, it's okay because Back To Nature cookies are really delicious. And they stand up to the "milk challenge". That means that when you dunk them in milk, they keep their shape and their substance integrity. AKA, "they don't fall apart when wet". Another thing about these cookies? They are a healthier choice for you and your family because they aren't load with extra fillers that we don't need in our food.  Did I mention that they taste really good? Because they do taste really great! When I first saw them and read all the healthy stuff about them I admit that I was skeptical. But I still tried them and they taste better than the other not so healthy cookies that stuff my face with. Honestly, they do.
So, yes, I do recommend giving these cookies from Back To Nature a try. And if you see their other products on your grocery isle, try them out too, if you want. I have actually seen a lot of the line at my local Safeway store. Interested in knowing more about Back To Nature and their product line? Visit them on Facebook or even better, check out their website!
Visit the Back To Nature website to grab some extra savings with their high value coupons!
Please follow and like us: