BBQ & Brew Fest – Visiting Kings Dominion In The Summer!
Travel Time Again!! Last weekend, I took some time out and spent 2 days in wonderful Virgina. A couple of friends and I went on an adults only mini vacay, and it was great! Where did we choose to travel to for weekend stay? Kings Dominion in Doswell, VA.
If you recall, I've visited Kings Dominion earlier this year around Mother's Day. It was the first week or so that the park had opened, and there was the Taste Of Virginia event happening there. Well, this time, my friends and I went to attend the 1st weekend of the BBQ & Brew fest, which is an annual event that the them park hosts.
We figured that since we wanted to get out and have some fun as group, that Kings Dominion would be a good choice. There's KOA campground lodging (RV's and/or Cabins), the theme park is there and there's also a water park there (Soak City).
 Roadtrippin'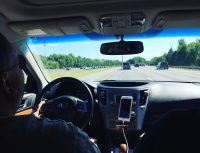 We are out on the road heading to Virginia, the place for lovers! I was super happy to not be the one driving,too. Because, while I do like driving, I don't like driving for a long period. Also… being a passenger allows me to take lovely photos and videos to share with you guys!!
Hey, We're Here!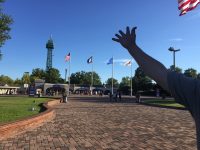 2 hours on the road, and we are finally here in Doswell! The sign welcoming us to Kings Dominion is energizing to me. I was beginning to feel sluggish sitting in the back seat all the time. Of course, instead of jetting straight to the theme park, we decided to check in to our lodging before going to KD. It was great idea, too, because we all needed a break to just stretch our legs and take a power nap. Hey, we're all 40 somethings who have been in a vehicle for a while,lol!
After checking in to our lodging for the weekend, which is a new KOA called Camp Wilderness, we headed to our cabin. Yes, we went to a campsite. There's RV's and tents there… and there's also cabins, which is what we stayed in. The cabins are pretty freakin' awesome, guys! My guests had never visited this particular place before, and they were impressed with all of the features and amenities that came with the cabin. Want to know what the cabin offers? Check it out OR you can take a look at an article I wrote from an earlier Kings Dominion trip I took this year:
 Ample accommodations for up to 10 adults
TV's with cable in every room (Master bedroom, 2 Lofts, Common Area) for a total of 4.
CABLE TV
FREE WIFI
Mini fridge
2 TWO Bathrooms with shower/tub, toilets, sinks, toilet paper, towels, and toiletries!
Outside picnic table for you and your guests
Charcoal grill
Firering
Space for pitching up a tent outside
So, you see… this place has just about everything. It can accommodate the "Glamping" person as well as the "Back To Nature" person, in my opinion. And that's just your cabin area! Oh yeah, did I mention that these cabins also have ADA cabins available? Yup… you just have to put in the request  for them when you are booking your stay.
 Everything You Need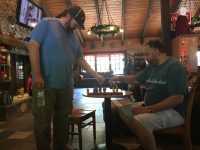 When you are at the KOA campsite, you don't have to stay to yourself. There's a pool area that is available to you. It's friendly and the staff there is amazing! OH! There's a country store that you can go shopping at for little things you might need. Things like breakfast or lunch items, snacks, beverages… they even have a spot where you can just relax and watch the tube or play a game of chess. Camp Wilderness did a great job at making their seem like a community. Now, if you didn't want to stay at the KOA your entire stay, there's a 7-Eleven, Denny's and Burger King very close by. And of course… there's a free shuttle to go to Kings Dominion!!
Going to Kings Dominion!
The main reason I came to VA was to visit KD to attend BBQ & Brew fest. So the next part of my blog will be about the times my guys and I spent in the park. We took the shuttle from our campsite to Kings Dominion because the shuttle is free and it saves you from paying the $15 parking fee is you drive your own vehicle.  The ride was quick and the seats were comfortable. After stepping out of the shuttle and grabbing my park passes from "will call", our adventure began! The first thing we saw the huge sign telling us that the BBQ & Brew fest was underway, WAHOO!!
Then we saw places to eat yummy foods and candies. I especially liked the candy store because they had some really delicious fudges available. Ever tried Cotton Candy fudge? You should try if you ever get a chance! After trying the sweet nibbles, I told the guys I wanted to go ahead to the BBQ fest to get my grub on. Being from the great state of Texas, I wanted to have a taste of home and the BBQ & Brew Fest was boasting samples of BBQ from a various of states known for their distinct BBQ tastes. The states being represented were"
TEXAS
TENNESEE
GEORGIA
VIRGINIA
Excitement Ensues!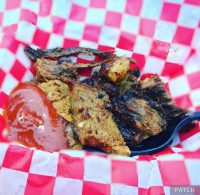 I was so excited to have a taste of all of these wonderful BBQ state foods, so of course I bought a plate form each booth. sadly, though, they (the foods) didn't really live up to the taste I was expecting. Like, none of them did. The food looked amazing, but I don't feel as though the pitmaster put any good effort to bringing out the essence of what makes each states BBQ good.
For that, I was disappointed and I give the BBQ fest part a "C" on the grading scale. For the Brew part of the fest, I give it a "B". I give it this grade because the beer beverages were good and they had some great flavors that mostly every beer drinker could enjoy. I personally only had sips of beer, but the guys attending with me had their fair share, and they really enjoyed the brews.
Favorites
My favorite things about the BBQ Fest was the live entertainment. The bands were pretty amazing and they had such talent. I would have liked to stay in the area just to see all the performances this go round at KD. But, the boys wanted to go on their roller coasters and other rides, so we did that as well!
 At And End, But Still More To See!
All in all, this adult mini vacay was fun for me. I love visiting Kings Dominion. It makes a great trip for families and if you just want to do something with adults, this can be a great choice as well! Hurry over and them a visit because the park closes for the year. They have the following events happening soon:
The Great Pumpkin Fest

Halloween
Haunt
Please follow and like us: