Have You Been Paying Attention To Caress?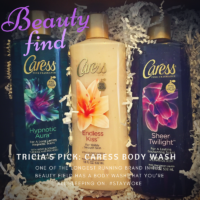 So… I've slacked on ya'll. I'm over here telling you about "Hot Trends" and stuff, and I've been sleeping on some of the other products out there. One being Caress Body Wash. Yes, Caress has a body wash! This brand has been out for decades. I remember my mother using this when I was a kid. Remember always thinking it was "soap for adults", lol.
But now I'm the adult. And guess what? Caress is still here, and still kicking *ss! The brand just hasn't been mainstreamed as much as those other $13 bottles of body wash (you know I'm talking about). Did you know that Caress has nice variety of washes and soaps that you can choose from? It's true; there's 13 different scents to try! There's 5 different washes,too:
EXFOLIATING BODY WASH
FINE FRAGRANCE ELIXIR
FOREVER COLLECTION
SILKENING BODY WASH
And every choice will leave your skin feeling like silk. I know… because I tried it.
 I Use Caress Body Wash
I'm not gonna lie. For a while I had run off to the mall and stocking up on certain body washes when they went on sale. I would gather up 4, maybe 5 bottles and spend almost $30…and like it because I was saving money. Little did I know that I could have gotten triple the amount had I just purchased Caress. Not only is the brands body wash priced lower than the mall ones, you get more than double the amount in one bottle.
I mean, have you seen the HUGE bottles that I just posted? That only cost $5.47 for the big 24 oz!. The sizes vary according to what your needs are,too. They vary from 18 OZ, 3 OZ, 12 OZ, 18 OZ, to the big 25.4 OZ pump. But, now I do know, and pretty well stocked up on Caress products for the year. That's 6 HUGE bottles of body wash $32.82 for 152 oz of body wash compared to $75 for 60 oz of body wash from the more expensive guys.
 How I Feel About The Wash
I love the wash. It makes my skin nice and soft and it smells good. The scent even stays with you after the shower like the other guys. Look, I'm not telling you to switch your favorite brand. I'm just giving you a great way to get your smells goods and keep cash in your pocket. So if you have an extra $5 to spare, go check out what Caress Body Wash can do for you. You can find it at Walmart and other local stores near you!
Please follow and like us: