Delicious PB & Chocolate Shake UNDER 200 Calories ! PBFit Does It!
Hey, guys! This morning I was trying out a product I was given by the BetterBodyFoods company. The product is called PB Fit, and can I just tell you something? After one taste, I loved it. True Story!!
Disclosure: I received one or more of the products mentioned above in exchange for review. Regardless, I only recommend products or services I use personally and believe will be good for my readers.
What IS PB Fit?
(company description)
PB Fit is a delicious, low-fat powdered peanut butter made from gently roasted peanuts. We extract about 85% of the oil from the peanuts and grind them to a powder. We add a pinch of sugar and a dash of salt to create a delicious powder that is chock full of flavor.  Combine PB Fit and water for a healthy peanut butter spread that is one-third the calories and 85% less fat than traditional peanut butter. PB Fit makes a great dip for apples, bananas, celery and pretzels. Throw a few scoops into your smoothie, yogurt or oatmeal to add a flavorful protein boost. You can also replace some of the flour in your baked goods to make PB muffins, pancakes and brownies.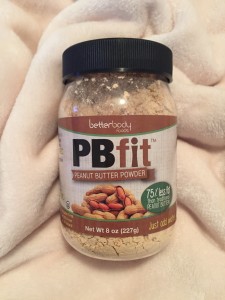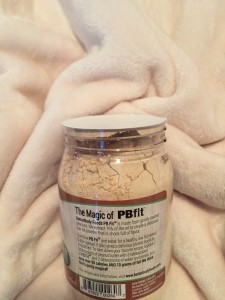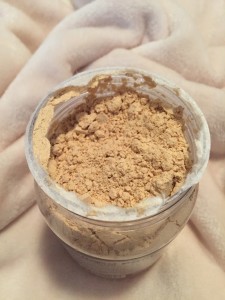 When I read in the description above that I could possibly create my own recipes from this peanut butter powder, I instantly thought, "Hey, I can put this in my morning shake". So, that's what I did. And this morning,I made a delicious peanut butter chocolate protein shake that tastes DELICIOUS and doesn't even have 200 calories in it ! Want to know how to I did it ? Get the recipe below !
Peanut Butter Chocolate Shake
Ingredients :
Directions
 Take the PB fit powder and the protein shake powder and put them into a cup. I used a my personal blender cup,but you can use a manual blender bottle or cup of your choice.
Pour in 6-8 ounces of almond milk OR your liquid mixer of choice. I actually did about 6 ounces of almond milk and 2 ounces of water for my taste… you can do the same if you choose.
Blend all the ingredients together in the cup. Remember to cover the cup with a tight sealing lid !
After the blending is done, you've got yourself a delicious protein shake. Your breakfast is ready to go, and you can add something extra to it and not worry about adding crazy amounts of fat and calories to your meal … Enjoy !
Please follow and like us: