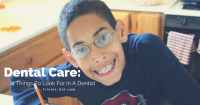 Dental Care
We all need it because we all have teeth. Well, most of have all have teeth. So because of this, it is necessary to have excellent dental care. The standard is visiting your dentist every 6 months for a routine cleaning, and then, if you have any other ailments/problems, to schedule them accordingly. I just went through the task of selecting a new dentist for my family and I. And here are some tips that may be able to assist you in finding the right dentist for you. Enjoy this post from Guest Writer Justin Herring!
4 Things to Look For In a Dentist
When you move into a new neighborhood, you will have to search for a new dentist. This can be a daunting task especially when you don't have a criteria in mind. At the end of it all, the quality of dental care you will get will be determined by your choice of a dentist. Though there could be many dentists in any given area, you should settle for the most respected, qualified and compassionate dental expert. Below is a checklist that can guide you when hunting for a dentist.
Reputation
You should avoid dentists that don't have good reputation. In most cases, such dentists don't have the necessary qualifications. It's actually risky to even consult such dentists because they can mislead you and once the damage is done, you can't reverse it. Besides that, you can confirm whether he is registered by the government by visiting the dental board website. You can tell whether a dentist has good reputation by reading reviews about him on the internet. If majority of his customers are unhappy with the quality of his services, you should keep hunting. You can even get recommendations from friends and relatives.
Price
Dentists normally charge different prices depending on the services that you want. If you don't live on the fast lane of life, you should opt for a dentist that offers dental care at affordable rates. The good thing is that there is stiff competition among dentists. You can therefore get a good service without having to pay a lot of money. If you ask around, you will be directed to dentists that target the rich and mighty while others target low income earners. However, it's worth noting that dentists set their prices according to the kind of equipment that they use. Those who have invested in state-of-the-art equipment and technology will definitely charge a premium price than those using cheap equipment.
Services Available
A reliable dentist offers comprehensive services. If you opt for a dentist that offers just a few dental care services, you will have to look for another dentist that has the capacity to give you the service that you desperately need. This can be a waste of time and money because you will have to travel to a different area. You can avoid such trouble by checking the website of any dentist that you are interested in. Alternatively, you can get in touch with the dentist via the phone and inquire about his services. That way, you will be able to find the best Los Angeles dentist within a short time.
Working Hours and Convenient Location
When looking for a dentist, you should opt for the one that is located in a convenient area. If you choose a dentist that's far from your workplace, you will have to spend more time driving to his clinic. It's better you opt for a dentist that's within your home area so you can dash to his clinic early in the morning or evening after work. Besides that, you should narrow down to a dentist that works beyond normal hours and offers same day appointments. This is because there are days when you will have unexpected break from work.
Please follow and like us: