Local Spotlight On Business – Diva Cooking At Home Cooking Events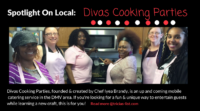 Hey, All! As you know, I've been making a concentrated effort to help bring more attention to the local small businesses in my area. A couple of weeks ago, I wrote an article featuring local artist Ania Milo and her wonderful Date With Paint class events. Today, I'll be introducing you Iyea Brandy, the creator and Executive Chef of Divas Cooking Parties.
About Divas Cooking Parties
Divas Cooking Parties is a mobile catering business. We provide a full range of private and personal chef services in your home or local venue. We offer cooking classes for beginners from teens to seniors. Our cooking classes are perfect for night with friends, bridal parties, etc. We also offer team-building events for companies both large and small.  Our founder Iyea Brandy is a serial entrepreneur and mom. She loves creating new recipes and cooking delicious healthy meals. She is the queen of 30-minute meals and loves creating colorful menu ideas. Iyea answers all emails personally; contact her to plan your next event. We service DC, MD and VA (NOVA areas).
My Divas Cooking Party
I hosted a Divas Cooking event at my home recently. I wanted to share the experience that my guest and I had. But first , I wanted to send "thank you's" out to Zico  and GourmetGiftBaskets.com for also sponsoring this cooking event by sending me delicious samples of their coconut water and red velvet cake… they were all delicious! Now, back to event!
Iyea was very punctual and arrived right at the time she said she would be arriving. She was very professional, and came equipped with all of her cooking utensils and the food and spices she needed to prepare the featured event meal. I wish I would have taken photos of everything that she brought with her, but I was too busy watching and listening to her explain what the spices were and why she chose them. Iyea is very astute in her cooking craft and more than amply shows why she is a leader in the cooking field.
Teamwork Makes The Dream Dinner Work!
I, as well as my guests, enjoyed the hands on cooking style class that Iyea led. In my opinion, she is a great cooking coach. She's not overbearing in her teaching, is easy to follow, and gets everyone in the class participating. I had 6 people in my cooking party and we all were able to help creating the appetizer and main dish. The dishes we made were roasted buffalo cauliflower and cajun chicken in a spinach cream sauce over gluten free fettucine. It was a really pleasurable time, and it wasn't strained at all. We even had drinks while cooking… and we didn't burn anything!
     As you can see by the photos above, dinner came out phenomenally, and it was more than enough to serve all 7 of us plus I had leftovers! Iyea says that this particular dinner will only take 30 minutes to prepare when you're at home. One of the best things about this main dish is that it really simple to make and other than the gluten free pasta… we made it all from scratch with little to no extra sodium. The meal was very flavorful. I would say the only thing that was missing was a basket of garlic bread, but who needs all those carbs, right?
 Looking To Host Your Own Divas Cooking Party?
If you're in the DC, MD, or VA area and would to have a Divas Cooking party of your own, I totally recommend acquiring Iyea and her services. You don't have to worry about going to her to cook… Divas Cooking Parties is a mobile service that comes to you. You and your guest will be in the comfort of your home or whichever venue you choose to host at. Iyea is great at keeping her cooking area clean and clutter free, so clean up is minimal. Divas Cooking Parties range differently in costs according to size of party and what type of foods/dishes you want to cook. Contact Iyea personally via email for more information. Or, you can visit Groupon to see what amazing deals Divas Cooking has available! The current deals on Groupon are:
Cooking Class for One
Cooking Class for Two
Meal Prep Class and One Week of Food (2 servings)
FIND THOSE DEALS HERE.
There is also the Baking Party for Up to Eight Children Ages Five and Up. The party includes:
Two hours of baking
Choice of cookie, brownies or cupcakes as the main project
Decorating of the baked treat
Boxed treat to take home
FIND THAT DEAL HERE.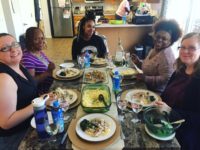 Please follow and like us: