Green Chef – WhoDaThunk Cooking Could Be This Easy ?!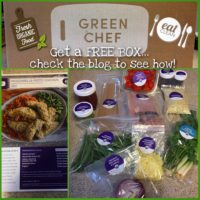 I received this product for free from Moms Meet (momsmeet.com), May Media Group LLC, who received it directly from the manufacturer. As a Moms Meet blogger, I agree to use this product and post my honest opinion on my blog. The opinions posted are my own.
Hey, Everyone! I'm in the process of trying out Green Chef, a meal box subscription. This box is similar to others meal boxes that you hear about out there, but I haven't had a chance to try those others out just yet.
Basically, you sign up for a box of your choice, and there's a variety for you to choose from. The choices are as follows:
2 Person Plan
Omnivore
Carnivore
Gluten Free
Vegan
Paleo
Vegetarian
Family Plan
The dinners that you choose and their ingredients are all organic and natural to ensure that you have the best and healthiest food available to you. When I started my Green Chef subscription, I chose to have the Omnivore Family box which gives you TWO different dinners that feed up to 4 people. My 1st box came February 7,2017 and included the Cajun Shrimp dinner and the Mozzarella Pesto dinner. Oh boy…this should be an interesting dinner for my sometimes picky family! The following are photos of what came in my box for …
This is a photo of what the dinners look like on the Green Chef website. Can't wait to see how mine look,LOL!
A Different Version
The results were phenomenal. With the organic ingredients provided by Green Chef, I was able to create an amazing meal for my family…and they really enjoyed it! You can tell the true difference in foods when you cook fresh and organic. It makes me feel proud and happy knowing that I am feeding my family good, nutritious food.
I LOVE that all of the ingredients were natural and organic. Green Chef did a stupendous job at ensuring that everything they send to their customers is fresh and in superb eating condition. You know when you go to the store and buy veggies and they have bruises on them on some just don't look savory and good? Well, you won't find that here at Green Chef. Not one bit. You'll only get the best foods for cooking and creating meals like one I cooked below:
My take on using Green Chef subscription boxes? I think they're pretty awesome! Great tasting meals that are truly wholesome, organic, and all natural… and you'll love them. You can follow the recipes that come with the box, or you can do what I did and create your own meal.
Want to try them? You can for FREE. Simply use the link right here, and sign up. If you do, you'll get 4 FREE MEALS  or $55 OFF just for trying out Green Chef. What are you waiting for? Go get it,lol!
Please follow and like us: