Homemade Poptarts. Why Buy When You Can Make Them?!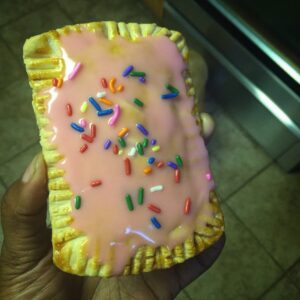 I love to cook. And I love to bake. My kids… well, they love to eat. Sometimes… they say that they want something like a Poptart or a Toaster strudel to eat. I hate buying those. When they were younger, I would get those things without really thinking about what kind of ingredients were actually going into the product. Now, I focus a little more on being healthy and making sure that I can get my kids,as well as myself, to eat and live healthier. No, I am not one of those people who reprimand others for eating what they like. If you want a Poptart from the store,then eat it. Buuuuuut … you're really missing out on some goodness you can make at home that is healthier and ,dare I say it, taste so much better than store-bought. My daughter and I made homemade poptarts, and she loves them. She even said that she would be open to making these instead of resorting to eating the boxed kind… THAT is progress (score another win for mommy)! Want to know how to make these EASY and QUICK delicacies? Follow the directions below, and if you make them, tell me what YOU think of them !
EASY Homemade Poptarts
Ingredients
1-2 Pastry crusts (I used a Safeway brand)
 Filling of your choice (I used raspberry preserves, but you can really use any pie filling or preserves. I do not recommend using a jam or a jelly)
1 Egg (for egg wash)
Ingredients (for frosting)
1 cup of powdered sugar
1 tbsp caro syrup (clear kind)
splash or two of milk
Directions
Take the pie crusts out of the container and unroll it. Cut the pie crust into rectangles. I used a storage container that was shaped like a rectangle to cut mine, but if you have a pastry cutter, that's even better. Depending on the size you cut the rectangles, you can make 2-4 poptarts. NOTE: make sure that all the dough rectangle are the same size!
Once you are done cutting the rectangles, take one and spoon some of your preserve into the middle of the dough. Do Not put filling over the entire dough… it will cause issues when baking. Once you have put filling onto one dough rectangle, place another rectangle on top of that. Use a fork the seal the two dough pieces together.  Repeat these steps until all of your poptarts are complete. Place the poptarts into a parchment paper lined cookie sheet or baking pan. Cut 1-2 slits into the top of the poptart for steam to escape while baking. Brush on the egg wash, and then bake at 350 degrees until cooked. While the poptarts are baking, make your frosting!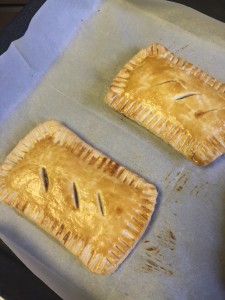 Directions For Frosting
In a mixing bowl, combine the powdered sugar, syrup, and milk. Whisk/blend together well.The mixture should have the consistency of store-bought frosting..just slightly thinner. You can use coloring to tint the frosting any color you like. We chose to use a couple drops of red food coloring to make pink frosting.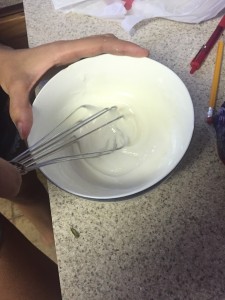 Now that you have the frosting made, check the poptarts to see if they are ready to take out of the oven. Once out of the oven, Let them cool for about 5-10, then you can ice (add frosting) to them. Enjoy the goodness !! You can make so many different variations of these, the possibilities are endless! This makes a great cooking project for the kiddoes,too!
Thank you for reading. I hope you enjoy the recipe, and tune in for the next one!

Please follow and like us: