Guest Review: How Does The Two Meows Mat Test Out?
Special Thanks To Amber M. For Her Guest Review !
Tired of finding litter everywhere? Check this out…..
Two Meows Mat (available in 5 colors)
18 x 22 x 0.1 inches Mat covers more area so more litter is trapped and not tracked
-CONVENIENT Paw-shaped mat collects litter from your kitty's paws so it isn't tracked all over your home
-EASY TO CLEAN Simply shake it over your kitty's litter box and it's ready to be used again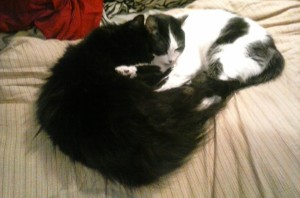 What did I think?
Today my Two Meows Mat came in the mail and I couldn't have been more excited. You see, I am a mama to two crazy cats (Holly the Hurricane and Audrey the Avalanche) and they are mess-makers! Not only do these fur-babies knock over everything in the house, they also track litter everywhere! YUCK!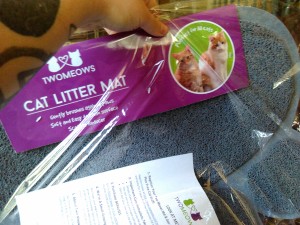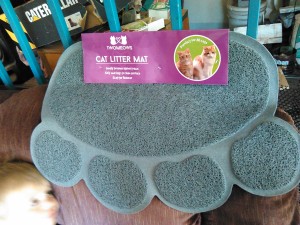 ​
The mat came in a huge Amazon shipping box! Upon opening, I found the Two Meows Mat wrapped neatly in plastic with a welcome note inviting me to register my mat for an extended 2 year warranty, free cat literature, care instructions, and information about the business.  The packaging was bright and the inside letter was a very nice touch! The mat itself was in a cute paw shape and was very soft to the touch.  I placed my Two Meows Mat next to the most frequented litter box in our home and snapped a picture so you could see the details. 🙂

​
Day 2 7/16/15
I checked on my Two Meows Mat today. The mat is super soft and my kitties had no problem using it. The mat is also larger than most litter mats I have tried and covers more floor area, so it definitely did a better job of trapping most of the litter from my fur-babies' paws.If you look closely you can see the litter trapped in the mat…( this was the day after I put the mat next to my litterbox.)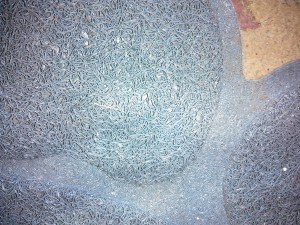 I am a stay at home mommy at the moment, so I have the opportunity to clean daily. I followed the directions on the piece of paper that came with my Two Meows Mat and just shook it out into my litter box…
Good as New !!
The Two Meows Mat did a great job at collecting the litter from my kitties' paws  so that it didn't wind up on my furniture. 
    I was extremely happy with how easy the Two Meows Mat was to clean. Really and truly, a simple shake over the litter box and that was all it took to put the litter back in its place.
**Disclosure: I received this product in exchange for review. Although the product was free, the opinions are 100% mine.
Please follow and like us: