My "Gotta Try" Recipe Of The Week: Hot Cocoa Cookies
Hot Cocoa… what? Hey,Everyone !  If you have noticed, recently I have started to blog a lot more about having a Gluten Free lifestyle. I am aware that for some, this may be a less than stellar choice, but I have decided to give it try for myself. As a blogger, I think it is beneficial to keep an open outlook onto new topics and "trends". Which is why I have chosen to start a weekly blurb about good recipes for things that offer a healthier version of what most call "the real thing". Top of my "Gotta Try" list … Hot Cocoa Cookies. I got this recipe from Udi's Gluten Free. You can save/print out the recipe from my site or you can go to their site for even more delicious recipes. But this week (this weekend), I will trying this recipe here !
Hot Cocoa Cookies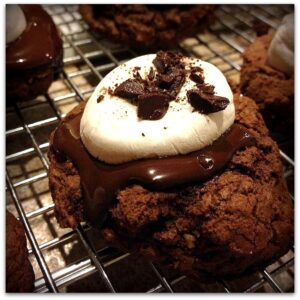 Ingredients
1 stick Earth Balance Butter
12 oz. dairy free chocolate chips
1 1/2 cups gluten free flour
1/3 cup unsweetened cocoa powder
1 1/2 teaspoons baking powder
1/4 teaspoon salt
1 1/2 cups brown sugar, packed
3 eggs
1 1/2 teaspoons vanilla extract
8-9oz dairy free chocolate, cut into 30 small squares
30 vegan marshmallows
2 cups Smart Balance Dark Chocolate Creamy Peanut Butter Spread
1 cup powdered sugar
Directions
In a medium saucepan, melt the butter. Add in the chocolate chips and stir frequently until completely melted.
Let chocolate cool in the refrigerator until cold to the touch- approximately 20 minutes.
In a medium bowl, whisk together the flour, cocoa powder, baking powder and salt. Set aside.
In a large bowl, beat the sugar, eggs and vanilla at low speed until smooth, 2 minutes. Mix in the cooled chocolate mixture just until blended.
Slowly add in the flour mixture on low speed until just combined.
Refrigerate the dough in the refrigerator overnight.
Preheat oven to 325 degrees. Line a large cookie sheet with parchment. Spoon out the dough and roll between your palms to form small 1 inch balls and place on parchment paper.
Bake until the cookies have just begun to puff up (approximately 6-8 minutes).
While cookies are baking, snip marshmallows in half and stick 1 square of chocolate onto each of the cut sides.
Once cookies begin to puff, remove cookie sheets from the oven. Gently press a marshmallow half, chocolate side down, into each cookie.
Bake cookies until the marshmallows soften( approximately 4 minutes)
Remove from the oven and let cool. While cooling drizzle with Chocolate Peanut Butter and dust with powdered sugar.
Repeat the process with the remaining cookies.
Enjoy!