Neocell Natural Collagen – Does It Work?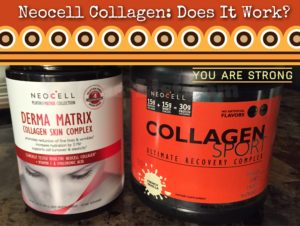 Beauty. It's something we all strive to have. No matter what form of beauty it is, there's no denying that we desire to achieve it for ourselves. With all of the various companies out there promising a virtual fountain of youth, sales from beauty products tally in the billions, if not hundreds of billions of dollars. And we, the consumer, are usually left with half filled jars of empty promises as well as pockets a little lighter than before. Truth of the matter is, we spend too much on something on something that is so simple to get.
For true beauty, you've got to start from the inside. I know, I know. You're thinking I'm going to say, "If you're pretty on the inside, you'll be pretty on the inside"… and you're right, I am. But I'm not talking about that corny line that people give you when they're trying to turn your advances down. I'm talking about healthy beauty. You know… the kind where you eat well, get some good exercise, take your vitamins. And then your skin, face, and body actually start to show the true beauty that is inside, outside. That's the beauty I'm talking about.
But…I'm rambling. What I really want to talk about is looking, being, and feeling healthy from the inside out. I do a lot to take care of my body. One thing I do is use collagen. And for my collagen use, I always turn to Neocell.
Neocell Collagen
I LOVE using Neocell collagen. If you have been following my blog over the years, you may remember the day I fell down my stairs and tore my tendons in my left foot and ankle. It was horrible and I wasn't healing properly at all with the medication my doctor was giving me. After all, they were only giving me meds to keep the pain at bay. 2 months into my injury, I still wasn't able to go jogging … even a slow jog. Then I found Neocell liquid collagen.I started taking the recommended daily dosage and, WOW! A short two weeks later, my ankle was feeling better, I was able to move it without pain,and I soon began to start a slow jogging routine. The stuff works; I swear by it.
The Neocell contacted me right before my Natural Products Expo East visit, and asked me if I would like to try some of their new products from their line. Knowing my great experience from past use, I was honored to try them. I chose two items to try: the Derma Matrix Collagen Skin Complex and the Collagen Sport Ultimate Recovery Complex.
Ome thing I love about the Neocell collagen is that you can get in powder, pill, or liquid form. The two products I used this time were both in powder form. They are flavorless so you can add them to just about anything liquid you want. I blend it with my orange juice or other juices when I take mine. It blends in easy with no clumps and no grit. So it's pretty simple to get your supplements in without even trying!
Check out the company descriptions of both products.
What IS Derma Matrix?
Derma Matrix™ provides technologically advanced ingredients designed to internally nourish the skin. This formula uses BioActive NeoCell Collagen™, which is created through a proprietary micronization process so that it dissolves instantly in water, juice, or a delicious smoothie! Like all NeoCell products, Derma Matrix™ is standardized to be both bioavailable and bioactive for maximum absorption and efficacy.*
Promotes reduction of lines & wrinkles*
Increases hydration by 21%*+
Supports cell turnover & elasticity*
Hyaluronic Acid
Supports skin hydration & cell turnover
Helps maintain suppleness
Vitamin C & Amla Fruit Extract
Aids in healthy collagen formation *
Protects against cell-damaging free radicals*
COLLAGEN SPORT ULTIMATE RECOVERY – 1.5LB Vanilla
Provides specific amino acids necessary to replenishing the body's collagen supply helps minimize fine lines & wrinkles, and improves elasticity in the skin Builds and supports bone matrix, corrects weak, broken, split and damaged nail beds thickens fine hair, adds body and slows down hair loss repairs connective tissues for improved elasticity; improves circulation; promotes glycine builds lean muscle to help burn fat while you sleep.
Collagen: The Body's Anti-Aging Protein
Collagen supplementation is one of the most fundamental things a person can do to prevent premature aging and promote youthful vitality. Understanding collagen begins with knowing that it is truly the glue that holds the body together; it is the building block for all our body's major systems.
Although abundant in our youth, the body's natural collagen production typically slows at a rate of 1.5% per year after the age of 25. As this collagen production slows, the collagen fibers in the body become brittle and begin to break down resulting in many of the tell-tale signs of aging, such as loose, flaccid skin, wrinkles, ligament and tendon injuries and osteoarthritis. Super Collagen+C™ utilizes Collagen Types 1&3, which is 90% of the body's total collagen supply and the main collagen constituents in the skin, hair, nails, ligaments, tendons, bones and muscles.*
Why I Love Neocell
In the 3 weeks that I've been using these two products, I've noticed that my mobility has gotten better in terms of flexibility and just all around not feeling those cracks and creaks that we sometimes get when we reach a certain age. I also notice that my super dry skin is not as likely to be so dry that it itches and tingles. This may be due to the increase of collagen I'm getting plus I have tried to hydrate myself more often. I do feel like the Neocell products have done a superior job at helping my joints and muscles feel better,though. I truly believe that I'll always be using these products; they're pretty amazing to me!
If you would like to know more about Neocell and their product line, visit their site and browse through it. Or, you can ask me your questions down below in the comments. Thank you for reading and talk to you soon with another informative article !!
Win Neocell Here !
Neocell Collagen Pack Giveaway

Please follow and like us: