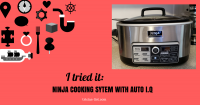 Cooking. If you haven't realized it by now, I'll tell you … I really enjoy cooking. However, I'm a Travel/Lifestyle Blogger and I hold a full time job. That equals challenges when it comes to having good meals at home for my family. At least … it used to. Before my Ninja Cooking System came into my life!
What Is The Ninja Cooking System?
The Ninja® Cooking System with Auto-iQ™ is four appliances built into one. A slow cooker, a stove top for searing and sautéing, a steamer, and an oven for baking. Cook everything from stews and roasts to seafood and vegetables and even baked goods. The Cooking System comes with Auto-iQ Technology: just select a recipe, add ingredients, and let Auto-iQ cook for you. Choose from over 80 pre-programmed recipes divided into four Programs: Quick Meals, Layered Bowls, Grains, and Poached Infusions.
Don't have much time? Quick Meals are the solution! Layered Bowls are easy two step recipes with the flavor and satisfaction of multi-layered meals, cooked in one convenient pot. Grains are perfectly cooked portions of oats and quinoa. Lastly, Poached Infusions are all the nuanced flavor of your favorite poached dishes with none of the guesswork. The included cookbook serves as your guide for selecting recipes. Between Manual and Auto-iQ functions, there's a huge array of delicious, one-pot meals at your fingertips. The 6-quart Cooking System also includes an auto stay-warm feature, digital timer, and steaming/roasting rack.
Four Manual Cooking Functions: Slow Cook, Stove Top Sear/Sautee, Steam, and Bake. Four cooking functions all in one appliance. Cook food in more ways than a traditional slow cooker can.
Auto-iQ™ Technology: Auto-iQ™ Technology allows you to select a recipe, add your ingredients, and Auto-iQ™ helps you cook! Featuring over 80 pre-programmed, chef-developed recipes divided into four categories: Quick Meals, Layered, Bowls, Grains and Poached Infusions.
Triple Fusion Heat™: Traditional slow cookers have only one type of heat—the Ninja® Cooking System with Auto-iQ™ has three. Bottom heat, side heat, and steam heat all work together for easy one pot meals.
Auto Stay-Warm: The appliance automatically switches to Stay Warm mode when Slow Cook, Steam, or Bake functions come to completion. This keeps your food hot and ready to serve without overcooking it.
Programmable Time and Temperature: Select your time and temperature for precise cooking (only available with certain functions).
Sear to Slow Cook: Searing meats before slow cooking locks in flavors and juices as well as creates a delicious texture. Do this all in one pot—no extra pans to wash.
Easy Clean, 6 Quart Pot: Our 6 quart pot can easily feed a family or more. Being lightweight, non-stick, and dishwasher safe, the pot is very easy to clean and it will be the only thing you have too wash. Focus on the meal, not the mess.
Portable: Cook anywhere you have an outlet. Parties, vacations, college, and more. Using a single, easy-to-clean appliance to prepare one-pot meals makes on-the-go cooking convenient.
Does It Work?
Let me start by saying, I truly love my cooking system. At first glance, it looks like a fancy slow cooker, which it is. But it's so much more than that. Not only can you slow cook a hearty meal, you can bake in this thing. Oh, you can also steam,  sear and saute in this pot! This ninja really puts the team "one pot meal" to the test, and passes beautifully.  I use the ninja to slow cook a lot, but today I had a hankering for some steamed Brussel sprouts, so I made them. It took less than 10 minutes to turn my raw sprouts into tender,delicious sprouts.
I've even seared a steak in the pot once and made some carmelized onions and gravy to accompany it. It was all done in Ninja Auto IQ. I haven't baked in the pot yet, but I'm looking forward to doing it. I'd love it if you all visited the website later for an update!
Please follow and like us: