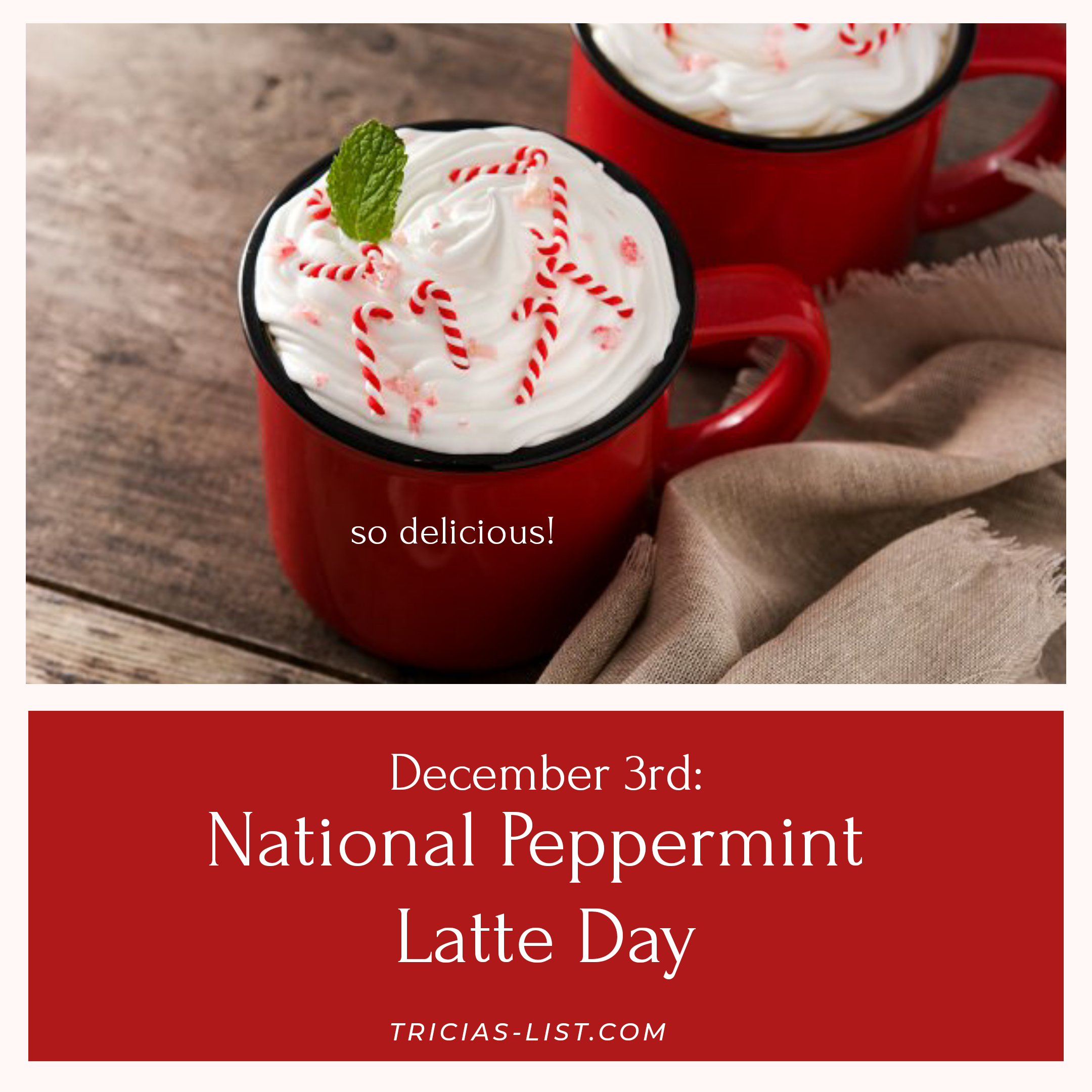 Peppermint Latte Day
Latte. Most of us know what the delicious coffee confection is, and we love it. And when I say "we", I'm definitely including ME. I love a good latte. Sometimes, I make them at home when I'm feeling froggy. Other times, I grab one from my local coffee shop, or even Starbucks or Dunkin. It just depends on my location and fanciness that day.
December 3,2022!
I'm saying all this simply to yell out loud that TODAY IS NATIONAL PEPPERMINT LATTE DAY!  So, I can't tell you who started national peppermint latte day or when it actually started. But I CAN say that it's been detected that it started in 2015.  On any account I'm going to celebrate the day because I love the taste of peppermint & love a great latte, as I've said before.
You can celebrate the day as well by going to your local coffee shop and grabbing one or you can make your own delicious peppermint latte at home with this easy recipe! I'm sharing this recipe that I found online (I'll add the credit once I find it again)!
Peppermint Latte Recipe
peppermint whipped cream
1/2 cup heavy whipping cream
2 tablespoons powdered sugar
1/8 teaspoon peppermint extract
peppermint mocha
1 cup milk
2 tablespoons granulated sugar
2 tablespoons unsweetended cocoa powder
1/8 teaspoon peppermint extract or to taste
1/4 cup strong coffee or espresso
toppings (optional)
chocolate syrup
crushed peppermint candies
miniature chocolate chips
Cooking Instructions 
Make the whipped cream by whipping heavy cream, powdered sugar, and peppermint extract until stiff peaks form. Set aside. Make the mocha by heating the milk and peppermint extract until hot and steaming, but not boiling, 1-2 minutes. Whisk in cocoa powder and sugar until combined, sugar has dissolved, and milk is frothy. Pour espresso into a mug, pour in milk mixture, top with peppermint whipped cream. Drizzle with chocolate syrup. Top with peppermint candies and chocolate chips.
Let me know if you would (or have) make this recipe in the comments below! Best comment gets a nice holiday surprise from me!
Please follow and like us: