Oooo,La La ! Pierre's French Ice Cream *Review*
Ice cream. If there is one thing I enjoy to eat during any time of any season ,it's ice cream. It could be the dead of winter with 6 feet of snow on the ground, and I would want I scoop or two of the icy confection . I am a little discerning when it comes to what types  I consume though. While there are about 3 brands that I really enjoy, there is one that I have just discovered ,and it is fast becoming one of my favorites . The brand is Pierre's French Ice Cream, and just the name makes me love it !
Oh… Is It Here?
When Pierre's arrived at my door step, I was super excited to receive the all too generous package. While waiting for the delivery ,I had looked up the company and did a little research on them,seeing as how I have never heard of let alone tried the brand. With all of the studying, I found some great facts about the company.
"The Pierre's Ice Cream Shop opened its doors in 1932 at a chic East 82nd Street and Euclid Avenue location. Its gourmet ice creams were prepared fresh each day in the back of the store and sold by the cone, the cup or hand packed for take home. The company founder, Alexander "Pierre" Basset, dreamed of marketing a premium ice cream which would be unsurpassed. Thus the name "Pierre's" … and the creamy, indulgent recipe that is still used today." (source Pierre's.com)
Pierre's has over 235 products and flavors, and they also manufacture products to a long list of private label lines and helps distribute many of the national brands of ice cream. With that being said , I want to share all of the yummy flavors that Pierre's Ice Cream sent me . I got 6 pints of ice cream; 3 lines , 2 flavors from each line, and I enjoyed all of them !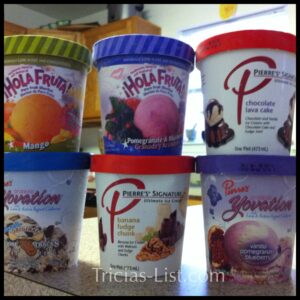 Did Someone Say Flavors?
Vanilla Pomegranate Blueberry Yovation.  Yovation® is "an irresistibly smooth and creamy frozen yogurt that offers indulgent taste along with probiotic benefits." I really enjoyed this frozen dessert. It was so creamy and tasty and the flavors just combined so perfectly together. I think that if I could get this at my nearest store,I would definitely do it. I also like the fact that there are probiotics inside ,which can be great for the digestive system. The Yovation line has 7 delicious flavors including the Moose Tracks one that was absolutely amazing..you won't believe that it is a frozen yogurt !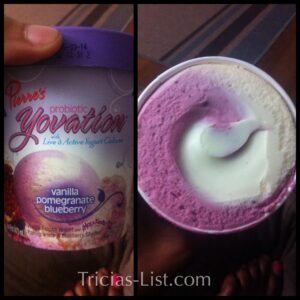 Signature Collection
The next line I was able to try was the "Signature Collection" line.  No artificial ingredients .No artificial colors . Just pure and total bliss ! I got two flavors of the Super Premium Signature collection. They were Banana Fudge Chunk and Chocolate Lava Cake. How "wow" do those flavors sound ?! I was in love with the Chocolate Lava Cake as soon as I read the flavor,lol. Biased? Just a little bit !
I did enjoy the bits of cake and the chocolate fudge in it… really good ! However, the Banana Fudge Chunk lets me sit and reminisce about my childhood. The flavor takes me back to when I was little girl ,eating BlueBell Ice Cream … it's was a good feeling to have,and I can appreciate any food that can bring back feelings of nostalgia . Pierre's has done that for me. The Signature Collection is available in 7 flavors !
Hola!
The last Pierre's line I was able to try was "Hola Fruta !" . Love the taste of these! They are beautifully blended sherbets that are incredibly packed with fruity flavor. I received the Mango and Pomegranate/Blueberry flavors. Both were quite delicious and true to their flavor name,however I did prefer the Pomegranate-Blueberry combo better. ¡Hola Fruta!® is the premium, all natural, pure fruit sherbet from Pierre's! ¡Hola Fruta!® is: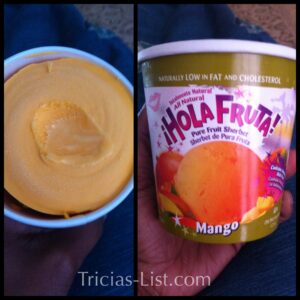 In Conclusion
Those are all of the wonderful tastes I was able to sample,thanks to Pierre's Ice Cream. My thoughts on the brand and all of their flavors is this : They are a great company that has been around for decades,and they provide an amazing ice cream for you and your family & friends to enjoy . As of right now ,the majority of their products and flavors are available only in Ohio and in areas of Pennsylvania, West Virginia and Michigan. Three of Pierre's product lines recently became available to stores in more states. If Pierre's is not yet available in your area, you can always order directly from the company … they ship anywhere in the Continental U.S. !
Please follow and like us: