Stockpile – One Of The EASIEST Ways To Invest !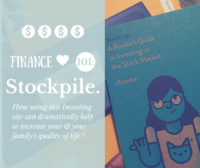 MONEY. Okay… now that I've got your attention. Who reading this likes money? I know I sure do. Money is something that everyone, everywhere needs. It's one of the few things that I think a person needs to survive in this thing we call life. We need money for food, for rent or mortgage … we need money for clothes. No, not everybody needs an extravagant amount of money, but we all do need coins and papers to get on hands on what we may want. And for that, we need an enhanced monetary status.
 A Better Way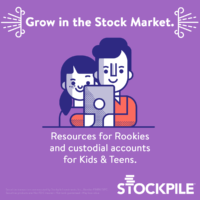 One of the best ways to enhance your financial life is by investing your money in a proper fashion. One of the ways people can enhance their financial life is by investing their money in stocks and bonds. This is a method many use. I, personally, have invested in my and my family's future since the age of 26. I'm not super good at it and I don't have my own stock broker, but I think that we have a decent finance dossier. Investing money takes a little bit of money to start in order for you to get anywhere in the stock game. When I started buying stock I was buying penny stocks because it was the easiest (and least costly) method for me.
But now, there's something even easier and you can invest in almost any stock out there for pennies on the dollar. This new easier way …  is called Stockpile.
An Easier Way To Invest
I just recently became a member of Stockpile, and I already really like it. Stockpile makes it easy for me to go and buy the Stocks that I want. For example, I just purchased $25 in Disney stock. Disney stock it's self is not $25.  As a matter of fact, Disney stock is running at $105 right now (as of July 14,2017)! And I've been able to get myself a piece of a share. That may not sound like a lot, but over time it will become grow and be worth more. I think it's great that you can spend as little as $25 to buy stock in companies that are fully established and thriving. It's just a smart, financially sound way to get your foot into the stock door.
How Stockpile Began (In The Company's Words)
A few Christmases ago, our founder, Avi, thought it would be neat to give his nieces and nephews some stock in their favorite companies instead of more stuff. But the ones he wanted to give — Apple and Google — were too pricey, and the process was such a hassle that he gave up and bought more toys. He couldn't get the idea out of his mind, though, and figured there had to be a way. And that's how Stockpile was born.
Don't Want That? Try A Different One!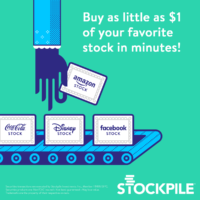 Don't want any Disney stock? You don't have to get that! You could go and invest $25 in Amazon or even Google or Tesla! If you know about these 3 companies, you'll know that Amazon is trading at over $1000 and Google is $805 a share. And you can be a part of that with a $25 investment!! Your stock investing choices are limitless when you use Stockpile. The site makes it so easy for people to invest with a just a bit amount of money. And it is real stock!
So, when you purchase stock from on the website, you are getting REAL STOCK. Real money that's going to be growing and helping to secure you and your family's financial future every day. Plus this is a perfect way to help teach your children about how to wisely invest in money. Think about it… $25 and you have stock. The stock that you buy for $25 today could easily turn into $100 in four months or even sooner. In my opinion, if you can go and spend $25 on pizza, then you can spend $25 on stock in that same pizza that you buy. Smart, right?
 Nearly Guaranteed Profit
Okay. We all know that the stock game is tricky. One day, stock can be sky-high and the next day…not so much. It's all a part of the game. But that's another reason why Stockpile is so amazing. You don't have to invest the entire $1000 in Amazon; you only need invest $25, or $10. Heck, I think you could even invest $5 if you wanted! In my experience with Stockpile, I invested $25 and got Disney stock. Then next day, my $25 increased to $25.19. That's a profit! Look… if you're not sure about putting a little of your own money into this, let me GIVE YOU $5 to start and check out the site for yourself.  Ready? Go HERE to claim your Stockpile gift from me to you. Invest in something you want, and watch that money grow.
Please follow and like us: