Do you LOVE a good cookie?
What to you is ,by definition, the "perfect cookie" ? To me ,a good cookie is one that is soft,moist,and loaded with flavor.I don't care what kind of it is; It can be peanut butter,chocolate chip,raisin,or oatmeal. Just so long as the cookie meets those 3 requirements I listed above. Guess what? I found the "perfect cookie" for me,outside of trying to bake it myself or having my mamma do it,lol.
It's a cookie from the the people of The Cookie Department,and let me tell you … nothing but , "Mmm" is coming out of your mouth when you taste them. And ..*ADDED BONUS* …these are "Fully Functional Cookies",which means they serve a bigger purpose other than to make your taste buds happy and fill your tummy .
These cookies can actually add some extra "oomph" to your body while delivering tasty goodness.Each flavor cookie has its own healthy contribution,ranging from giving you some extra energy to carry on your day to maybe even helping you out  during a body detox routine. Read on to see how this may work.
I Get To Eat Cookies… Really?
I had the deliciously wonderful opportunity to work with The Cookie Department,and they sent me a box of their cookies in each flavor that they offer. These are the flavors listed below (along with a photo):
Awaken Baked
This is absolutely DECADENT! It is sooooo moist and the chocolate chips that are present…OMG ! I don't really like double chocolate cookies much,but this one was just,WOW! I loved the taste ,the consistency was perfect,and the cookie is big enough to share half with a friend ! Remember earlier when I said that each cookie from The Cookie Department is a "fully functional cookie" and serves another purpose other than to taste good? Well , Awaken Baked is an espresso cookie that contains the equivalent to 1 cup of coffee. So, when you eat the cookie,make sure it's not at night !! Unless,of course,you're like me and love the night life !  Check these photos out of what the cookies look like.
Chocolate Chip Nookie dual functionality? It has Maca in it,which is a superfood that is believed to boost vitality,hence the name "Nookie".Who knows…maybe stocking your pantry with these delicious cookie will bring on some more "nookie" for you !
Tough Cookie
Pure bliss for you peanut butter lovers ! Take your favorite peanut butter cookie and then amp it up by giving it 10 grams  (yes, 10 grams !) of protein. I think that any fitness buff would be a fan of this all natural,non trans fat snack.Give it a try !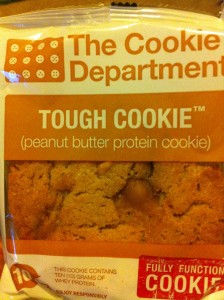 Great Full
While this is not as big as the other two mentioned,it is chockful of healthy goodness and taste ! The Great Full is a Vegan sweet potato cookie and it has sweet potato,brown sugar ,and dried cranberries in it. Although the cranberries are dried,they are still VERY plump and juicy…you can see how they look in the photo below. The cookie itself tastes really good; it's amazing what everyday things can be vegan and you don't even know it !
SNAP BACK 
Like Gingersnaps? You're gonna love the Snap Back, then ! It has all of the ginger-y goodness that old fashioned gingersnaps have,but the hardness is gone. These cookies are by far the most moist of the  batch. I had a little bit with milk, but I decided to eat the rest "as is"because I loved getting the taste of the sugar as well as the awesome ginger taste. The Snap Back's secret super power is that it contains ginger,cayenne,and blackstrap molasses to aid the body in a natural detox. Who would have thought that eating a delicious cookie could be sooooo good for you ?!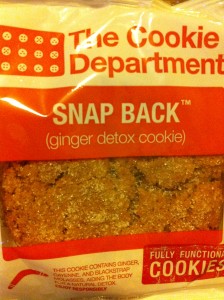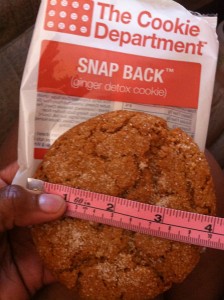 I really enjoyed being able to taste and review all of these wonderful and delicious cookies. And, I was very impressed at the fact that they made their cookies with health benefits in mind for every one who enjoys them. Just to let you know,all of the cookies made are natural,non transfat, and have no artificial flavors in them. They are also made with premium ingredients to ensure that you get the best quality products for you ! It took me about 2 weeks to review all of these,so the shelf life for them is REALLY GREAT. Note: It is recommended by Akiva that if you plan on keeping them longer,you should freeze them to ensure quality throughout the time you have them.
Where can I buy cookies ?!
For a list of where you can buy The Cookie Department cookies, visit here ,or you can simply order online by clicking here .
Please follow and like us: